The Brazil Travel Blog brings you every month a calendar for you to use on your computer desktop.
Here is the May 2008 calendar, with a house from the village of Ribeirão da Ilha, in Florianópolis, where many Portuguese inmigrants settled decades ago.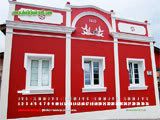 DOWNLOAD:
– Large size
– Small size
Remember, a new calendar every month!
Category: General