The state of Santa Catarina's Fundação do Meio Ambiente mantains a useful webpage where net users can check out the quality indexes for the beaches of the state. At Relatório de Balneabilidade you are presented with two choices:
a) you can check out the beaches of Florianópolis (playas de Florianópolis)
b) or you can check out the beaches of the entire state, including Florianópolis (playas del estado de Santa Catarina).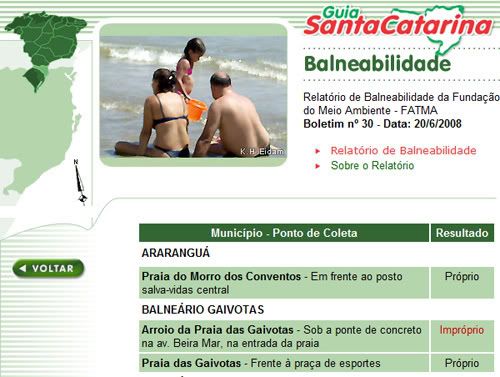 There are two different tags applied to each beach. Impróprio (unsuitable, in red) and Próprio (suitable, in black). Unsuitable beaches are those where a high concentration of toxic bacteria has been found. Do not forget that in a big part of Brazil sewage is not treated at all.
See also on this blog: Beaches of Rio de Janeiro: quality index
Category: Destination: Santa Catarina