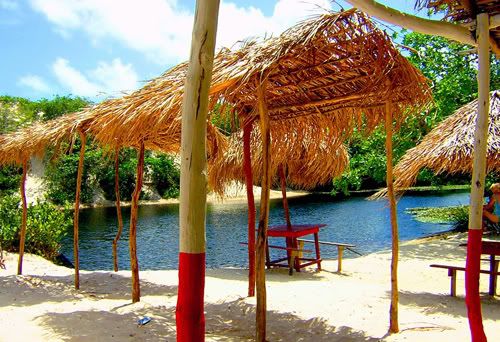 [from our special guest Daniel]
Algodoal is an island in the state of Pará, north of Brazil. Up until three years ago there was no electricity on the island. When it arrived, it was decided there wouldn't be street lighting to preserve the rustic character of the villages. There are no motor vehicles on the island, nor there is asphalt on the roads. One of its main attractions is the Princesa beach, a desert island for most of its 14 km of length, chosen by Time magazine as one of the most beautiful beaches of Brazil.
WE LIKE THE MOST: to spend the day resting at the beach or at the lago da Princesa. Walking along the village day or night and not coming across a single motor vehicle. The sunset from any bar at the Caixa D'água beach.
WE LIKE THE LEAST: its remoteness: it's a six-hour trip from Belém. Basic services are hard to find. Lack of environmental conscience – specially considering the island is a Environmental Protection Area.
HOW TO GET THERE: there are several daily buses from Belém to Marudá harbour. It takes them four hours to cover the 163 km separating both places. Once in Marudá you have to take a traditional popopó boat, that reaches the island in 40 minutes. It costs R$5. Alternatively, there is another boat leaving every day from the Maracaná harbour that reaches Algodoal in 3 hours.

CAREFUL WITH: the sun, sunblock is a must. The crossing to the island can be quite rough at times.
FAVOURITE PLACES: Lago da Princesa, Playa da Princesa.
PIECE OF ADVICE:
hire someone to help you carry your luggage once you arrive in Algodoal. Most of the pousadas are quite far away from the arrival point.
the island is packed during January, July and the bank holidays; an ideal time if you are looking for parties & fun. The rest of the year you will find absolute peace and quiet.
there are not ATM's on the island. There are a few shops where you can do your basic shopping.
do spend the weekend at the island. The carimbó (traditional music from Pará) party takes place on Saturdays at the Bar do Carimbó.
on the way to the Lago da Princesa take the path that goes through the interior: the first stretch is done on a canoe through the mangrove swamp, and then it's a 40 minute walk through several different ecosystems. On the way back, return walking along the beach or on a cart.
if you get sea-sick when you travel by boat, take the boat that leaves from Maracanâ; although the trip takes longer the sailing is less rough.
careful with the areas covered in mud. It looks harmless but it's really sticky.
LINKS: Algodoal.com
WEATHER FORECAST: The weather in Algodoal (Marudá) for the next 10 days
[Don't forget to check out the list of other destinations already covered in this blog, here]
subscribe to the Brazil Travel Blog by Email


follow the Brazil Travel Blog on Twitter


follow the Brazil Travel Blog on Facebook
Category: General