In World Heritage Sites we presented a list of all the heritage sites in Brazil, both cultural and natural. Now I want to introduce a website devoted entirely to the World Cultural Heritage Sites found in Brazil: Mankind's Cultural Heritage in Brazil. The website is run by the Ministry of Tourism and has a version in English, the one I'm linking to here.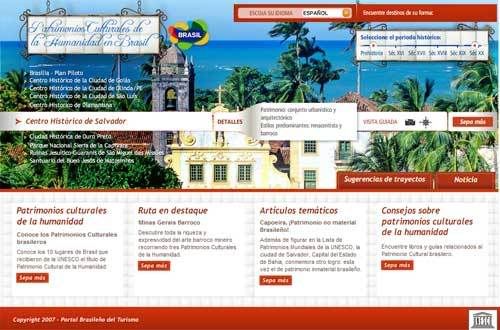 The design of the website is quite pleasant to the eyes although it takes some time to get used to the navigation tools. The page contains plenty of information on the following places:
Brasilia
Historical Centre of Salvador
Historical Centre of Ouro Preto
Historical Centre of Diamantina
Historical Centre of São Luís
Historical Centre of Goiás
Historical Centre of Olinda
Serra da Capivara National Park
Jesuit ruins of São Miguel das Missões
Santuario do bom Jesus de Matosinhos (Congonhas)
It is an excellent source to find information on the cultural heritage of Brazil. It's always refreshing to come across an initiative that goes beyond the staple diet of sun and beach. It is an official site, after all.
The site presents a few translation problems and some oddities (Diamantina pictured north of Ouro Preto). Of course, any criticism to the sorry state of preservation of the cultural heritage is conspicuous by its absence.