The Brazil Travel Blog and its author (yours faithfully) feature on the cover feature of this month's issue of Info magazine, the most important Brazilian computing magazine.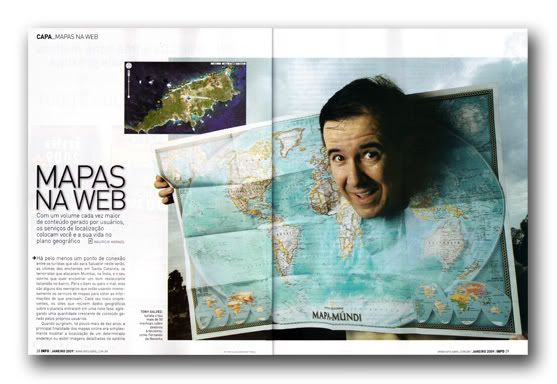 I thought our 15 minutes of fame (or rather, two-page spread) provide an excellent excuse to recap on the ever-growing collection of mash-ups we've produced both for this blog and its Spanish-language siblings (De viaje a Brasil and the Blog de São Paulo).
So here's a list of GoogleMaps mash-ups you can check for free.
BLOGS:
Consult the blog's posts by its geographical location.
Brazil Travel Blog geolocated.
Blog de São Paulo geolocated.
De viaje a Brasil geolocated.
DESTINATIONS:
Detailed maps of a few Brazilian destinations.
map of the beaches of Arraial do Cabo
map of Arraial d'Ajuda
map of the beaches of Búzios
map of the beaches of Cabo Frío
map of the Costa dos Alcatrazes
map of Fernando de Noronha
map of Florianópolis
map of Ilha Grande
map of Santos
map of Ubatuba
THEMES:
Brazilian Airports (prepared for D Airfare)
Brazilian Soccer League stadiums 2008
Top 10 Brazil
Category: This blog