Google has just incorporated a transit layer to its maps. It contains information for a number of world cities, including an important selection from Brazil: Belo Horizonte, Porto Alegre, Recife, Río de Janeiro and São Paulo.
When you turn on the transit layer (accesible through a drop-down menu on the top right-hand side of the map) you will be able to see lines showing the layout of rail transportation in the above-mentioned Brazilian cities. Both underground and above-the-ground train services are shown. It is a very useful tool as you can easily see whether there is fast and convenient public transportation to any point in the city.
Let's take Porto Alegre. You are arriving in the airport and want to know whether there is any transportation into town. You just have to locate the airport on the map, activate the transit layer, and you will quickly find an visual answer to your question.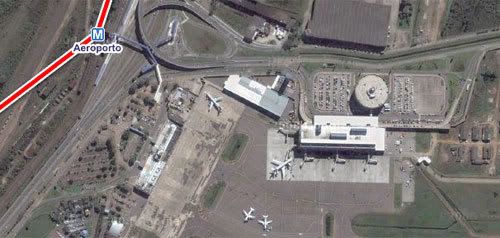 If you click on the symbol of any station you will find out more information about it.
How about the location of São Paulo's underground stations?
The only care you need to take is not to confuse the subway/underground lines with the suburban trains – both exist in the case of São Paulo. A single click on any station will allow you to see which means of transportation is available there.
A warm welcome to this additional layer of information. You probably know we are big fans of Google Maps. Our work landed us recently a double-page spread on Info magazine (GoogleMaps on the Brazil Travel Blog). Might be nice to see more people using Google Maps in Brazil. At times it seems the institutions and powers-that-be responsible for putting out tourist information are completely unaware of its existence and usefulness.
subscribe to the Brazil Travel Blog by Email.
Category: Links