We had already told at this blog's post birds from the Atlantic Rainforest about the wonderful hours spent birdwatching on the Mata Atlántica (the Atlantic tropical rainforest) on the northern coast of the state of São Paulo. A few days ago I came across the website Ubatuba Birds, with a wealth of information on one of the most valuable treasures the region contains, its amazing and fascinating biodiversity.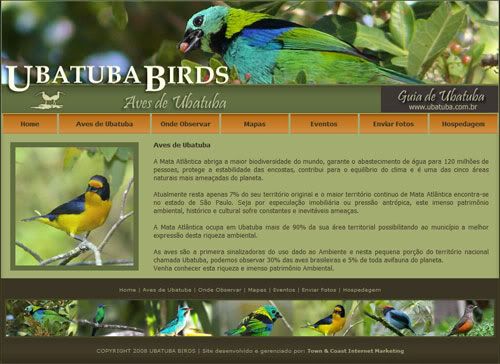 The page contains several documents in PDF format for download, including a list of the 476 bird species that have been spotted on the region, as well as information on the best places to go birdwatching.
Congratulations on the initiative, we hope it encourages a less predatory form of tourism and raises awareness about the immense threats the Atlantic Rainforest is facing. The damage done to the forest is irreversible, we hope one day people will realize looking after nature is the only way forward.
——————————
RELATED POSTS:
birds from the Atlantic Rainforest
destination: Ubatuba
São Paulo getaways
subscribe to the Brazil Travel Blog by Email


follow the Brazil Travel Blog on Twitter
Category: Activities, Destination: São Paulo