This is a guest post by our friend Ernesto. He first came to Pernambuco in March of 2007 as a tourist. In January of 2008 he returned and since then has been living in Olinda. He keeps two blogs: a personal one and another that focuses solely on Olinda. His email is nyenye03 at hotmail dot com. Thanks for your valuable contribution, Ernesto.
————————–
Most people who land in Recife seek two things: Carnaval and Porto de Galinhas. Carnaval only takes place for a few days each year and Porto de Galinhas, although considered by many one of the best beaches in Brazil, does not belong (geographically nor politically) of Recife.
Which yields the question: what does the Greater Recife area offer for tourists?
Recife and neighboring towns are not exactly organized, clean or safe. Greater Recife has one of the highest crime rates in the country. Recife itself is called the "Brazilian Venice" because of its rivers and channels, but the truth is that most are polluted and obstructed. The beaches have enormous signs that warn against the threat of sharks. Besides, it's fairly obvious that urban beaches are, in general, not attractive, whether they are in Recife or in any other state capital in Brazil.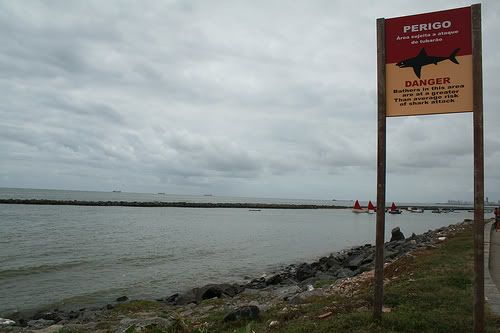 The negative reputation would indicate that tourists need to avoid Recife at all costs.
But behind all that, there are some attractions that are worth mentioning. With flights from Brazilian, European and North American cities, Recife has the chance to become a tourist magnet year round, even though Carnaval will continue to be "high season."
If you find yourself in Recife, I have four recommendations for you:
For someone planning a trip to various Brazilian cities, a week in Recife should be enough. If you are planning longer holidays, it's easy to include Recife in your plans due to the many transportation options leaving Recife.
Of course, there are many more attractions in Greater Recife, most importantly the culture. In Recife and Olinda there are many foreigners who are enamored with the culture. There is a universe to discover: maracatú, samba de coco, cavalo marinho and much more. Don't hesitate to contact me if your visit is cultural in nature and you want more detailed information.
subscribe to the Brazil Travel Blog by Email


follow the Brazil Travel Blog on Twitter
Category: Destination: Pernambuco, destinations