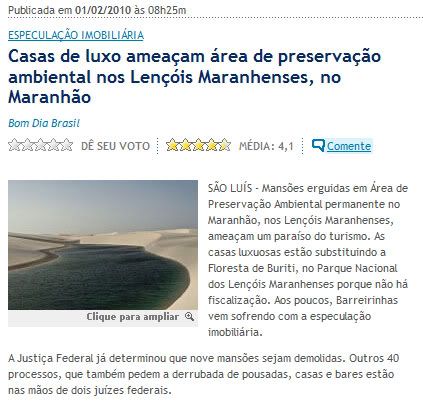 This is one of the few times that an entry about the Lençóis Maranhenses in this blog will not be accompanied by beautiful pictures. Instead of pictures of this natural paradise, we bring you a story published by newspaper O Globo, explaining how the construction of luxury homes threatens the environmentally protected region.
When we visited Barreirinhas a few years ago we did not like what we saw. But, according to the newspaper, the situation is now out of control, with the construction of mansions everywhere and ridiculous actions, such as the person who not only built a mansion in an environmentally protected area, but also diverted the river to build his own private beach. Reading this story is very upsetting, due to both the agressions against the environment and the fact that the authorities cannot or will not do anything about it.
Will we be alone in denouncing this?
More and more frequently we find that the Brazilian travel blogosphere -with some notable and well known exceptions- will avoid any criticism towards the tourist destinations in Brazil. But as long as we have the energy, we will continue to pay attention and condemn these problems.
It might be unpleasant for the authorities, but discussing these issues and demanding solutions demonstrates commitment towards sustainable tourism in Brazil. Talking about Paris Hilton or Madonna on social networking sites does not.
——————————
RELATED POSTS:
destination: Lençóis Maranhenses
Maranhão, images of a Brazilian paradise
Brazil in pictures: Lençóis Maranhenses
subscribe to the Brazil Travel Blog by Email


follow the Brazil Travel Blog on Twitter
Category: Destination: Maranhão