Linhas rodoviárias is a new website with information on travel routes around Brazil. It is quite easy to use. For the time being, it only contains information on both domestic and international routes departing from São Paulo.
Busque seu destino! is your search window. ORIGEM (origin) has São Paulo selected as a default (you can't change it). At DESTINO (destination) you have to select the state or country you are travelling to and at CIDADE (city, town) the name of your destination.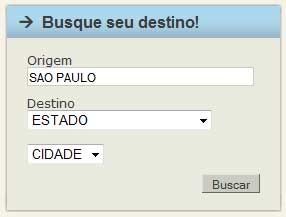 The interesting thing about this website is that the search results shows not only the details of the company or companies (empresa) travelling the route. You will also find the schedules (horários de embarque), fares (preço da passagem), duration of the trip (tempo de viagem), distance (distância em kilómetros), number of stops (previsão de paradas) and the number of the ticket office (guichê de venda) at the bus station where you will be able to purchase tickets.
We take the system is fed manually with all the data coming from multiple sources. We don't know how often the information is updated. For that reason, we encourage you to use this website as a starting point on your research. But double-check any information with the bus company you will be travelling with.
We hope new departure cities will be fed into the system soon. When that happens we'll promptly let you know here.
Our main blog entry on bus travel in Brazil is bus transportation in Brazil.
——————————
RELATED POSTS:
bus transportation in Brazil
subscribe to the Brazil Travel Blog by Email


follow the Brazil Travel Blog on Twitter
Category: Links, transportation