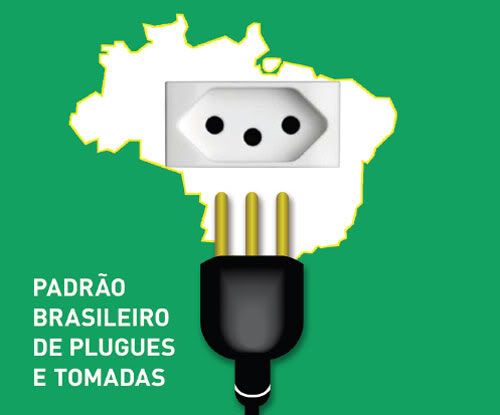 The Brazilian authorities have recently adapted a new standard for plugs and sockets throughout the country. The good news is that, in the future, Brazil will have just the one type of socket. The bad news is that the authorities chose a new standard incompatible with the existing Brazilian sockets and with the standards of the rest of the world.
The new socket looks like the one on the image at the beginning of the entry. It has three round holes. Plugs with two round holes (like the ones found in some European countries) will work when inserted in the new sockets.
The new plug can have either two or three pins (for grounded plugs).
Those wanted to know more about the change can check the PDF published by Inmetro (in Portuguese only), that can be downloaded here: Conheça o padrão brasileiro de plugues e tomadas.
New domestic appliances purchased in Brazil must, by law, come with the new plug. But the change in sockets is likely to take a long time, as I can't see anyone rushing to buy new sockets and change the entire electrical instalation at home or at the office.
subscribe to the Brazil Travel Blog by Email


follow the Brazil Travel Blog on Twitter


follow the Brazil Travel Blog on Facebook
Category: General