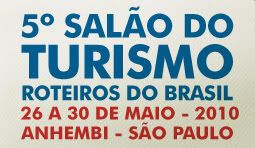 From 26 to 30 May São Paulo will be host to the fifth edition of the Salão do Turismo, the most important tourism fair in Brazil. It is open both for the trade and for the general public.
We visited the Salão last year and came to the conclusion that it was a brilliant showcase for the diverse and immense variety of tourism destinations Brazil has to offer.
As well as stands from all the Brazilian states, the visitor will find crafts, folklore and regional food.
Entrance is free and all the information on the Salão is on the website Salão do Turismo 2010.
subscribe to the Brazil Travel Blog by Email


follow the Brazil Travel Blog on Twitter
Category: Events