The World touristiness map is a map project that analyzed the number of Panoramio photos for every spot on the world and turned the density of photos into colour shades. Yellow shows where the highest concentration of photos is, red highlights a medium concentration and blue a low concentration. Areas in grey have no photos available.
On the global map the standing fact is the central role of Europe. On the South American continent, a high concentration of photos can be guessed in the south east region of Brazil.
When you look closer at the map of Brazil you confirm the high concentration of photos for the south east region (mainly Rio and São Paulo) and also along most of the country's coast. No surprises when you realize most of the Amazon region is unphotographed.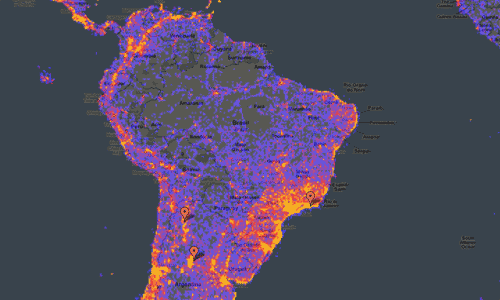 If you are after an undiscovered destination, you might as well search for it using this map!
subscribe to the Brazil Travel Blog by Email


follow the Brazil Travel Blog on Twitter


follow the Brazil Travel Blog on Facebook
Category: Links