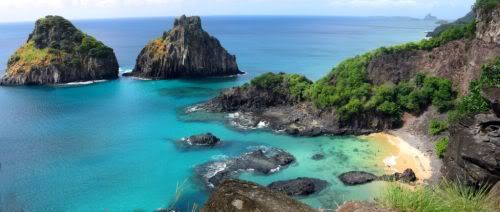 How cheap can a trip to Fernando de Noronha get? Our friend Daniel assumed the challenge and has just returned from five days at paradise. The total cost of the trip: R$900. Here's how he did it.
————————————————————
1. Expense: plane ticket
Money spent: R$23.75
How he did it: the only low-cost alternative of reaching Noronha is the plane. Membership of a frequent flier program is a must, whether it is Gol's Smiles) or Tam's Fidelidade). There is no reason why you shouldn't be a member of both programs (they are free).
With enough credit on your account, you can issue a return ticket to Noronha paying only the airport tax associated to your flight (in Daniel's case, R$23.75).
With 20,000 Fidelidade points or 20,000 Smiles miles you can issue a return flight to Fernando de Noronha from any airport served by the airlines in South America. Daniel issued a Belém-São Paulo-Recife-Noronha and a return Noronha-Recife-São Paulo. But he have checked TAM's system and found the chance of issuing Buenos Aires-Noronha flights under the same conditions.
You need luck. Quite a lot of it. Availability doesn't come easy. In actual fact, most of the time you simply won't find seats to Noronha. Daniel tried unsuccesfully for two months until one day seats became available once again. He issued his tickets a month in advance. There were plenty of dates available.
Persistence is key. You need to keep accessing the airline system. Do not give up if you don't find what you're looking for. The more flexible your dates are, the higher the chances you will find something that fulfills your needs.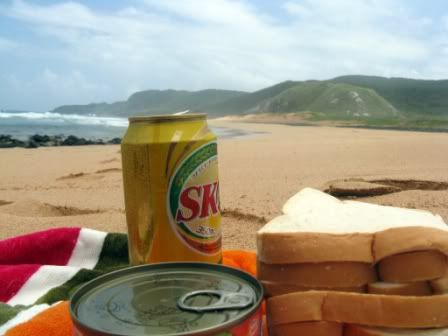 ————————————————————
2. Expense: environmental tax
Money spent: R$152.96.
How he did it: Noronha's environmental tax is the only non-negotiable expense of the trip. Its value is fixed and must be paid by all tourists arriving on the island.
The money paid by Daniel corresponds to a four-night stay in Noronha.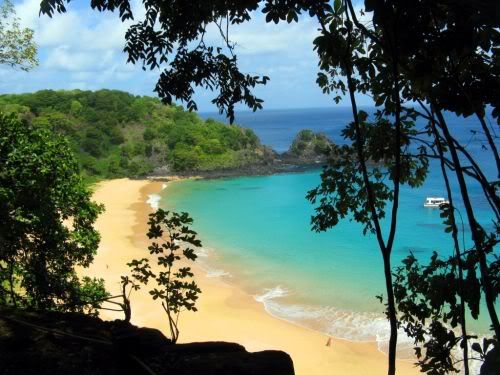 ————————————————————
3. Expense: accommodation
Money spent: R$480.00.
How he did it: four nights accommodation, single occupancy, breakfast included, for R$120 the night on a pousada on the Vila dos Remedios. It is one of the cheapest accommodation options on the island though while searching for a pousada Daniel came across another establishment charging R$90 for a room with no hot water. At hotels and pousadas in Fernando de Noronha you have a full listing of accommodation on the island so you can carry out your own searches.
We feel that for a low-cost trip, a location on the Vila dos Remédios is ideal: you can walk to three beaches, the island's bus runs through it, and there is a supermarket and several food outlets.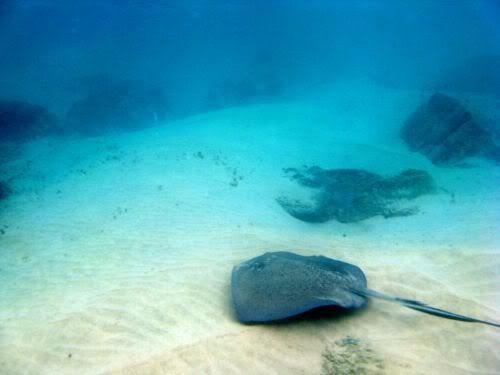 ————————————————————
4. Expense: food and transportation
Money spent: R$184.00.
How he did it – food: if you want to keep your budget under control, a low-cost tripper to Noronha can't afford to dine at a restaurant. So it is supermarket time, it is cheese and ham sandwiches and the occasional hot snack.
Carrying your food with you has an additional vantage in Noronha. Most beaches are virgin with no food outlets nearby. Having your food with you means you won't have to interrupt your visit to the beaches to go somewhere where you can be served food.
If you want to take your budget to the limit, you can bring your canned food from the continent.
How he did it – transportation: for a start, forget buggies exist. They're expensive, they pollute beyond belief, they're uncomfortable and, above all, they are unneccesary in Noronha, a small island with a public transportation system taking you everywhere. You will never have to walk more than 25 minutes to reach a beach in Noronha. A very small price to pay. The bus costs R$3.10 and Daniel never waited more than 10 minutes for it. Tell the driver where you're heading and he'll kindly let you know where to get off the bus.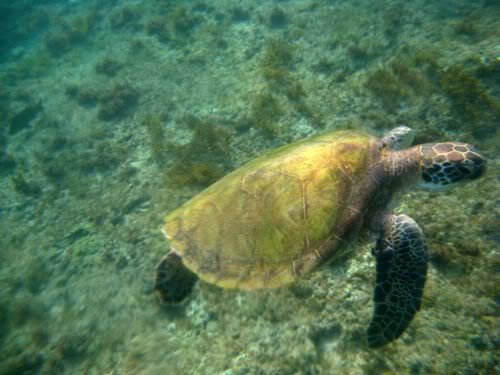 ————————————————————
5. Expense: life jacket and flipper hire
Money spent: R$60.00.
Noronha and diving go hand in hand. Half of the natural wonders of Noronha are found below the sea level. Diving is expensive but snorkelling isn't and Noronha offers a bewildering choice of options for fans of snorkelling.
If you have your own mask and snorkel (Daniel did) you only need to get hold of a pair of flippers. They are a far more essential item than you'd think. As Daniel went to Noronha on his own he thought it would be wise to have a life jacket on too. Not a good idea to go snorkeling on your own without the support of a life jacket.
There are several locations in Noronha where you can hire your diving gear.
————————————————————
6. Total:
plane ticket: R$23.75
environmental tax: R$152.96
accommodation: R$480.00
food and transportation: R$184.00
life jacket and flipper hire: R$60.00
grand total: R$900.71
————————————————————
7. What you can and cannot do within that budget
You can:
enjoy the most beautiful beaches in Brazil.
snorkel to exhaustion in the Brazilian diving paradise.
walk along the historic centre of the island and visit the forts and outlooks.
attend the environmental lectures every evening at the Projeto Tamar
You cannot:
snorkel at the natural pools at Atalia beach. You can add it to your trip for an additional R$30.
take the boat trip around half of the island.
any other activity where you have to pay – in Noronha they are very few of them.
————————————————————
8. Informacion on Fernando de Noronha at the Brazil Travel Blog
Fernando de Noronha is simply our favourite destination in Brazil and for that reason you'll find quite a lot of information on the blog. Our main entry is destination: Fernando de Noronha.
All the photos and the video illustrating this blog post where taken by Daniel during this low-cost trip to Noronha.
——————————
RELATED POSTS:
destination: Fernando de Noronha
Noronha: ready to fork out a further R$130?
subscribe to the Brazil Travel Blog by Email


follow the Brazil Travel Blog on Twitter


follow the Brazil Travel Blog on Facebook
Category: Destination: Noronha