São Paulo Destino / Destination is a map produced by the local authorities of São Paulo.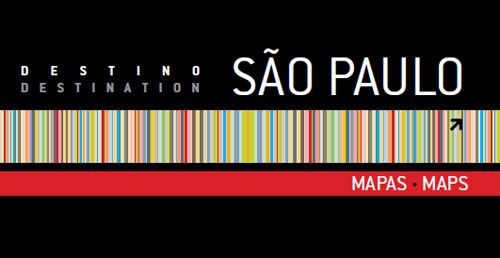 The problem of a substantial number of maps of São Paulo is that they try to incorporate in a single map all the information about the immense city. The result is often unsatisfactory. The map I am recommending today opted for separate treatment for different sections of the city.
As well as a printed version of the map you should be able to get at the tourist office, you can download a PDF version from the following link (download will start right away). Alternatively you can visit the page Área para download and click on the image of the map (first on the third row).
——————————
RELATED POSTS:
destination: São Paulo
São Paulo getaways
São Paulo's top ten
Museu do Futebol (football/soccer museum)
Morumbi stadium (São Paulo FC)
Octavio Café, São Paulo
terminal Tietê bus station in São Paulo
the São Paulo subway system
how to go from Guarulhos international airport in São Paulo to town
Accommodation at Guarulhos aiport in São Paulo
taxis from Congonhas domestic airport in São Paulo
taxis from Guarulhos int'l airport in São Paulo
subscribe to the Brazil Travel Blog by Email


follow the Brazil Travel Blog on Twitter


follow the Brazil Travel Blog on Facebook
Category: Destination: São Paulo