The Brazilian Formula 1 Grand Prix will take place at a later date than usual: between 25 and 27 November. It will be the very final race of the 2011 championship.
Tickets for the race have just gone on sale at the official GP website. Go to the Portuguese version of the website and select Ingressos>Compre Aqui to see the prices. A map allows you to see where each sector is located.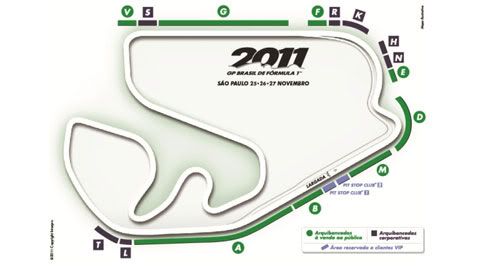 A few weeks before the date of the race we will publish our special report with plenty on info on what to do in São Paulo (you can check our 2010 report at 2010 Brazilian F1 Grand Prix at Interlagos – special report).
——————————
RELATED POSTS:
São Paulo's top ten
São Paulo getaways
subscribe to the Brazil Travel Blog by Email


follow the Brazil Travel Blog on Twitter


follow the Brazil Travel Blog on Facebook
Category: Activities