If there is an issue likely to upset Brazilians that is the notion of a foreign intervention in the Amazon region. The argument seems to go along the lines "you Europeans and Americans destroyed your own forests, we can do likewise". I'm not going to spend time debating the merits of such logic, in fact, I'm not interested here in politics at all. What I'd like to reflect is an unquestionable reality: tourism on the Amazon region is a foreign affair.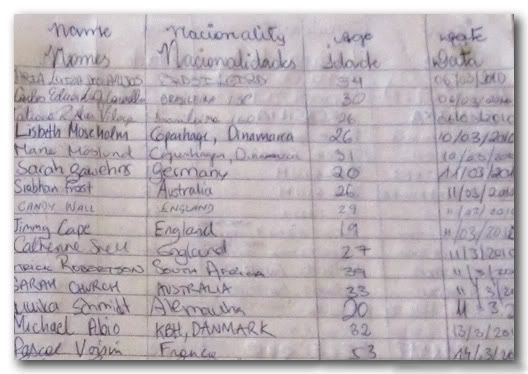 When we visited the local community of Maguary, in the National Forest of the Tapajós, near Alter do Chão (a superb Amazon destination for which we gave plenty of details at an Amazon adventure: trips around Alter do Chão), I had the chance to have a look at the visitor's book where tourists leave their signatures. In the most recent pages the following nationalities could be seen:
France, Canada, Canada, Chile, Argentina, Finland, France, France, France, Brazil, Mexico, Brazil, Brazil, Brazili, United States, United States, Germany, Brazil, Brasil, Spain, Belgium, Chile, Austria, Brazil, Germany, Italy, Slovakia, Brazil, Spain, France, Brazil, Brazil, Brazil, Brazil, South Africa, Australia, Denmark, Denmark, Germany, Australia, England, England, England, South Africa, Australia, Germany, Denmark, France, Brazil, Germany, Israel, Germany, Argentina, Argentina, Argentina, Argentina, France, Brazil, Switzerland, Uruguay, France, Peru, United Kingdom, Israel, United Kingdom, Italy, Canada.
This list reflects to perfection the point we are trying to make. Tourism in the Amazon is for foreigners. Several reasons might explain this phenomenon:
Brazilians are not that keen on eco-tourism. Beaches or shopping are their top priority.
for a Brazilian spending a week on the Amazon can be more expensive than a week in the Caribbean or in Florida. There are Brazilians who would like to visit the Amazon but don't do so because of its high cost.
accommodation in the area (we gave quite a lot of details at Jungle Lodges in the Amazon) caters for the foreign tourist. With multilingual websites quoting their rates in dollars or euros and selling their packages through eco-tourism agencies abroad.
a handful of establishments have developed a highly specialized offering for which their is no market in Brazil, where bird-watching or butterfly-watching are beginning to take off.
outside the Jungle Lodges, in those places where community-based eco-tourism has evolved (Alter do Chão and the river Tapajós would be a prime example), the agencies that have developed this approach to tourism in the Amazon are in the hands of foreigners.
So, if you go to the Amazon and you find surrounded by other foreign tourists, do not be surprised. It is the reality of tourism in the region. Don't let that be a diminishing factor of your Amazon experience.
Below you will find our main entries on the Amazon region.
——————————
RELATED POSTS:
destination: Alter do Chão and the river Tapajós
destination: Manaus
destination: Belém
Jungle Lodges in the Amazon
"cheia" and "seca" on the Amazon region
riverboats across the Amazon – schedules / timetables
Amazon riverboat trips
subscribe to the Brazil Travel Blog by Email


follow the Brazil Travel Blog on Twitter


follow the Brazil Travel Blog on Facebook
Category: Destination: Amazon