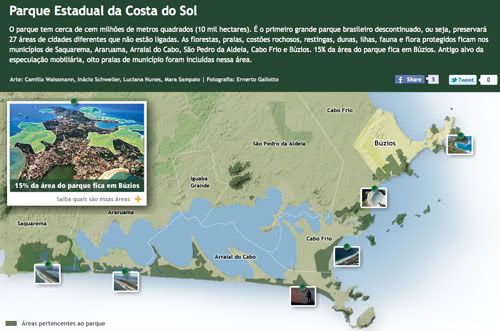 According to O Globo newspaper (Parque: decreto preserva praias mais cobiçadas de Búzios), the governor of Rio de Janeiro has just passed a decree preventing developers from exploring whatever's left (and it's not much) of Búzios original vegetation. A new natural park, the Parque Estadual da Costa do Sol (Pecs), will be created encompassing bits and pieces of 27 different cities.
The beaches that should fall under the protection of the law include:
Azeda, Azedinha, Brava, Olho de Boi, Forno, Tartaruga, Caravelas and José Gonçalves in Búzios.
Peró (left corner), Conchas, Brava and Ilha do Japonês in Cabo Frio.
Grande, Massambaba e Prainhas (pontal do Atalaia) in Arraial do Cabo.
This is certainly good news although only time will tell how effective the park will be in preventing the destruction of the environment at the hands of developers.
——————————
RELATED POSTS:
destination: Arraial do Cabo
destination: Búzios
subscribe to the Brazil Travel Blog by Email


follow the Brazil Travel Blog on Twitter


follow the Brazil Travel Blog on Facebook
Category: Destination: Rio