"Brazilian hotels, the most expensive in the world".
"Rio de Janeiro, the most expensive city of the Americas".
"Accommodation in São Paulo or Rio de Janeiro is more expensive than in Berlin".




The media headlines tell the story of how expensive Brazil has become in recent years. An overvalued local currency means foreign tourists will discover today Brazil is a very expensive country. Price of accommodation in particular will be a sore issue in all traveling budgets.
O Globo magazine published recently a cover where the comparisons are established between prices in Rio de Janeiro and elsewhere in the world.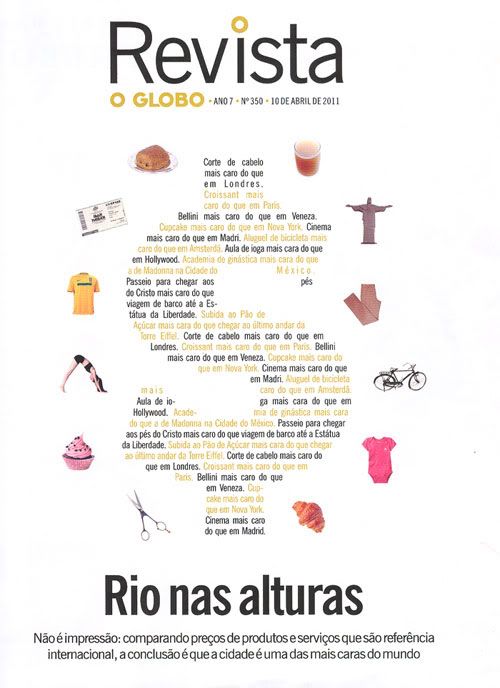 Haircut more expensive than in London.
Croissant more expensive than in Paris.
Bellini more expensive than in Venice.
Cupcake more expensive than in New York.
Movies more expensive than in Madrid.
Bicycle hire more expensive than in Amsterdam.
Yoga lessons more expensive than in Hollywood.
Gym more expensive than in Madonna's gym in Mexico City.
Trip up to the Corcovado Mountain more expensive than the boat to the Statue of Liberty.
Trip up the Sugar Loaf Mountain more expensive than reaching the top of the Eiffel Tower.
Let's reach for another source. The ranking of the most expensive cities in the world by XPatulator. It takes into account cost of living and on its April 2011 edition it includes the following cities on its top 15:
Tokyo (Japan)
Caracas (Venezuela)
Hong Kong (China)
Geneve (Switzerland)
Zurich (Switzerland)
Osaka (Japan)
São Paulo (Brazil)
Nagoya (Japan)
Vaduz (Liechtenstein)
Oslo (Norway)
Rio de Janeiro (Brazil)
Sydney (Australia)
Yokohama (Japan)
Brasilia (Brazil)
Canberra (Australia)
Three Brazilian cities appear in the list.
Brazil has become such an expensive country for tourism than even Brazilian themselves are choosing to travel abroad rather than spending their own holidays home – expenditure by Brazilian tourists abroad is breaking all records (Turistas brasileiros gastam US$ 4,7 bi no exterior em 2011).
Let's hope for better times for foreign tourism in Brazil. The current price situation is anything but encouraging.
——————————
RELATED POSTS:
since 2003, the value of Brazilian real has increased 122 percent against the once mighty dollar
subscribe to the Brazil Travel Blog by Email


follow the Brazil Travel Blog on Twitter


follow the Brazil Travel Blog on Facebook
Category: Money