Archive for July, 2011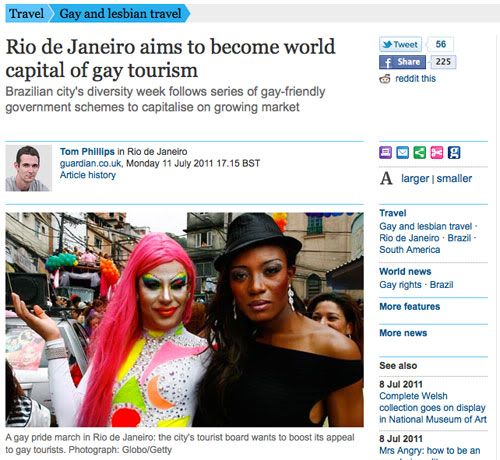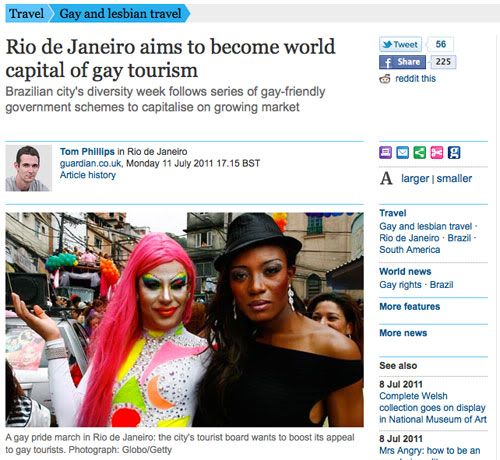 A recent article from The Guardian newspaper explores the ever increasing role of gay tourism in Rio de Janeiro. Read at Rio de Janeiro aims to become world capital of gay tourism how gay-friendly initatives are gaining ground in a city whose tourism authorities want to boost gay tourism – with an eye on the pink dollar. Within Brazil, it should be noted that for quite some time it has been São Paulo, host to the largest gay parade in the world, who has led the iniative (see our blog post gay São Paulo – a website and a free guide).
Our main blog post on Rio de Janeiro is destination: Rio de Janeiro, where you will find plenty of information and links.
——————————
RELATED POSTS:
48 hours in Rio de Janeiro – what to do, where to go
hotels in Rio de Janeiro
budget accommodation in Rio de Janeiro
the Rio de Janeiro subway
map of Rio de Janeiro
a new Rio pass is launched
the new official Rio Guide
Rio de Janeiro's Michelin guide for free
hang-gliding in Rio de Janeiro
Rio bus station: Terminal Novo Rio
double-decker hop on-hop off tourist bus for Rio de Janeiro
subscribe to the Brazil Travel Blog by Email


follow the Brazil Travel Blog on Twitter


follow the Brazil Travel Blog on Facebook