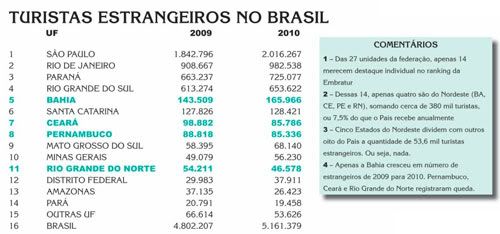 I recently came across some data from Embratur that caused me quite a lot of surprise (accesible through edition 972 of Jornal Panrotas).
The first surprise was to learn that only 7,5% of foreign tourists arriving in Brazil visit the northeast states of Brazil. I was expecting a much higher figure. The second surprise was motivated by the 40% of foreign tourists that visit the state of São Paulo.
Those figures are quite interesting as they reveal the ever-increasing role of business trips. Without the tourists that arrive in Brazil to attend a conference or a trade fair, and those that come to do business of one kind or another, Brazil's share in world tourism would be negligible. By focusing on business tourists, we believe Embratur is making a costly mistake. Help for independent travelers is hard to come by and is condemning Brazil to an irrelevant role in world tourism.
subscribe to the Brazil Travel Blog by Email


follow the Brazil Travel Blog on Twitter


follow the Brazil Travel Blog on Facebook
Category: General