If you've been reading us for a while you're probably aware by now that we are big fans of Google Maps and its use to support travel planning (we talked about it at GoogleMaps on the Brazil Travel Blog).
Google has just added a new weather layer to its Google Maps (you can read the official announcement at Rain or Shine, see the weather on Google Maps).
If you enter Google Maps and go to the widget on the top right corner where you select the different view modes (Map, Earth, Traffic, Photos and so on) you will see there is a new layer called "Weather". If you select it, you will see weather-related symbols appearing on your map. We'll be using Rio de Janeiro as our example:
If you click on the symbol next to Rio (sun and cloud) you will see a pop up window with the forecast for the coming days (as my settings for the Google Apps are in Spanish I'm seeing the info in Spanish, you will see it in English).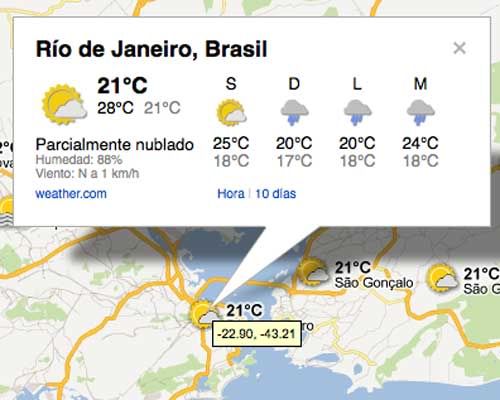 If you click on 10 days you will get yet more weather information.
——————————
RELATED POSTS:
Google's Street View has landed in Brazil
ultra high-resolution satellite photos of Brazil
new transit layer on Google Maps
GoogleMaps on the Brazil Travel Blog