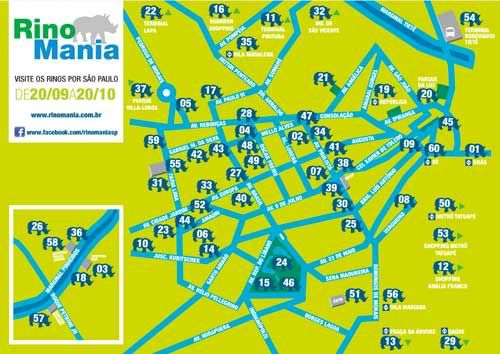 After two editions of the Cow Parade, it is the turn now for rhinos to take the streets of São Paulo through Rino Mania.
From 20 September till 20 October 60 fiberglass rhinos (no fear of uncontrolled beasts charging against innocent by-standers) will occupy public and private spaces in the city of São Paulo, mainly in the center, Avenida Paulista and Jardins areas.
At the official website of the event there is a map with the location of the rhinos.
——————————
RELATED POSTS:
São Paulo getaways
São Paulo's top ten
Museu do Futebol (football/soccer museum)
Morumbi stadium (São Paulo FC)
Octavio Café, São Paulo
terminal Tietê bus station in São Paulo
the São Paulo subway system
how to go from Guarulhos international airport in São Paulo to town
Accommodation at Guarulhos aiport in São Paulo
taxis from Congonhas domestic airport in São Paulo
taxis from Guarulhos int'l airport in São Paulo
subscribe to the Brazil Travel Blog by Email


follow the Brazil Travel Blog on Twitter


follow the Brazil Travel Blog on Facebook
Category: Destination: São Paulo, Events