Welcome to the Brazil Travel Blog and our special report on the 2011 Brazilian Formula 1 Grand Prix at Interlagos.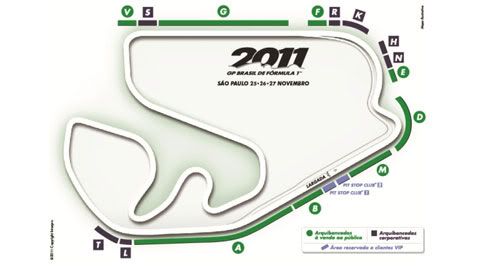 —————————————————
1. THE DATES
GP Brasil Formula 1 will be held at the Interlagos circuit on Sunday 27 November 2010 (training sessions on days 25 and 26). Full schedule of events at the GP's official website (it has an English-language version).
—————————————————
2. HOW TO GET TO INTERLAGOS
Do avoid getting to Interlagos circuit on your own car. During the celebration of the GP, the traffic jams on the region of the circuit are horrendous.
1. Shuttle buses.
Every year the local transport authority runs shuttle buses from five different points in the city of São Paulo:
• Shopping Interlagos
• terminal Jabaquara (subway, line 1, blue)
• Praça da República
• Shopping SP Market
• Congonhas airport (domestic flights, shuttle bus operating from 7 am).
The Praça da República option is good for those staying in the area of Avenida Paulista.
Longer but much faster is the Jabaquara option. Take the subway till the end of the blue line and hop in one of the shuttle buses.
2. Suburban train (CPTM)
This is an option of interest for those staying near the Pinheiros river (mainly in the Avenida Berrini area). Take the train (line 9, direction Grajaú) and get off at the Interlagos station. There is no direct access to the circuit from the station, you will have to find your way around. Follow the crowds.
3. Private transfers
Most hotels hire their own fleet of vans. Do find out.
4. Taxi
It is impossible to figure out the cost of a trip to Interlagos, but due to the horrendous traffic it can set you back anything between R$60 and way more than R$100.
—————————————————
3. WHAT TO DO IN SÃO PAULO
At São Paulo's top ten I pointed out a few outstanding highlights in the city. If you have a few days to spare, you have plenty of interesting ideas at São Paulo getaways.
If you read Spanish, you might be interested on my very own 142-page Guía de São Paulo.
——————————
RELATED POSTS:
São Paulo's top ten
São Paulo getaways
youth hostels in São Paulo
subscribe to the Brazil Travel Blog by Email


follow the Brazil Travel Blog on Twitter


follow the Brazil Travel Blog on Facebook
Category: Destination: São Paulo, Events