Nudism in Brazil is restricted to a handful of official nudist beaches – and extended in an unofficial way to a series of other remote beaches. If you want to go nude or topless make sure you check it is allowed wherever you are. The general rule is: minute (nearly invisible) bikini? Yes, you can. No bikini top? No, you can't. If you read Portuguese you will the see the reality is slight more complex: A polêmica do topless nas praias do Rio de Janeiro. But as a rule of thumb, that should do.
There is no law in Brazil regulating naturism. For that reason, official nudist beaches receive that recognition from the local authorities. The Brazilian portal UOL put together a map of the official nudist beaches in Brazil.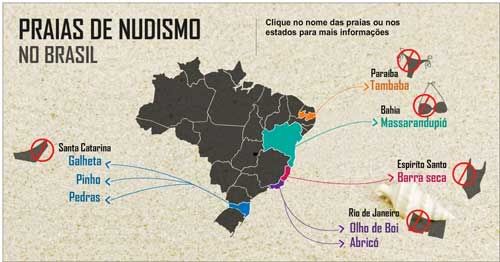 They are:
Abricó (in Rio de Janeiro)
Barra Seca (in Linhares, Espírito Santo)
Galheta (in Florianópolis, Santa Catarina)
Massarandupió (in Entre Rios, Bahia)
Olho-de-boi (in Búzios, Rio de Janeiro)
Pino (in Balneario Camboriú, Santa Catarina)
Pedras (in Palhoça, Santa Catarina)
Tambaba (in Conde, Paraíba)
Here at the Brazil Travel Blog we published our own list of top 10 Brazilian beaches, in case you want to have a look at it. Of the clothed version, mind you!
subscribe to the Brazil Travel Blog by Email


follow the Brazil Travel Blog on Twitter


follow the Brazil Travel Blog on Facebook
Category: General