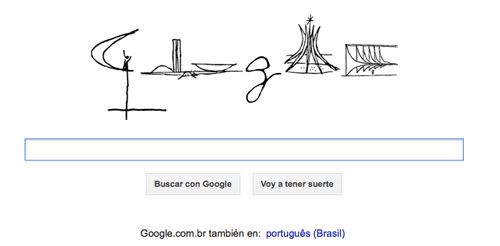 For those who were not surfing the internet on Saturday, here's the beautiful homage Google paid to the 52th anniversary of Brasilia in the form a doodle (you can see it here) formed by the silhouettes of some of the best-known buildings in the city.
Here at the BRAZIL TRAVEL BLOG we paid our very own homage to Brasilia on the occassion of its 50th birthday: a e-photobook you can view and download for free: Brasilia 50, our free photo ebook on the Brazilian capital. Brasilia features on our list of 10 must-see places in Brazil and for that reason we have covered the destination in detail. The starting point to all the information we have on the capital of Brazil is destination: Brasilia.
For those interested on an alternative take, in English, on what Brasilia means 52 years later: An irreparable mistake, Brasília, 52, may only be feasible in 150 years.
——————————
RELATED POSTS:
Brasilia 50, our free photo ebook on the Brazilian capital
map of Brasilia
hotels in Brasilia
a new shuttle bus from Brasilia airport to town
sighsteeing in Brasilia
Brasilia wonders: JK bridge
Brasilia wonders: Santuário dom Bosco
Brasilia wonders: the Esplanada dos Ministérios
World Heritage Sites
Website on the Cultural World Heritage Sites in Brazil
Category: Destination: Brasilia