After a period of closed doors due to renovation work, the mythical Maracana soccer stadium in Rio de Janeiro reopens its doors to visitors. Construction work is far from being finished, but visitors will be able to have two different experiences of the stadium:
a guided visit to the construction work under progress (more details, in Portuguese, here). It is done on the first Saturday of each month and you have to confirm your presence by writing to visitaguiada@maracanario2014.com.br
a visit to the Torre de Vidro (Crystal Tower) (more details, in Portuguese, here). The tower is the part of the stadium where you will find the hall of fame and other memorabilia. From the top of the tower there is an splendid view of the stadium. Visits are carried out between 9 and 19 horas, from Monday to Sunday bank holidays included. There is an entrance fee of R$20.
New images of the stadium
The architecture studio responsible for work at the Maracana has just released new images of how the stadium will look like when it's finished. Click on the image below.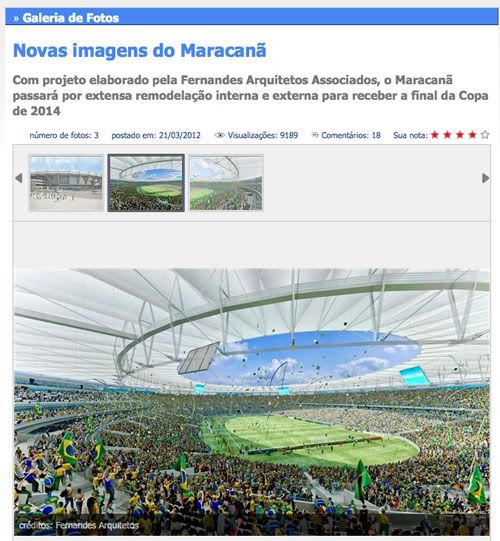 The Maracana stadium will be host to seven world cup games, including the final. Work is expected to be completed by February 2013, several months behind schedule.
The following video introduces the official project for the new Maracana stadium.
More information on Rio de Janeiro and the World Cup.
This blog's main entry on Rio is destination: Rio de Janeiro. We have also an entire blog devoted to the forthcoming world cup: The World Cup Brazil 2014.
Category: Destination: Rio