Florianópolis launched recently a new official tourism website with versions in Portuguese (Vivendo Floripa), English (Living Floripa, Spanish (Viviendo Floripa) and Chinese. The initiative is the responsibility of the Florianópolis City Council and the government of the State of Santa Catarina.
The information is structured on four menus, All About Floripa, Enjoy, What to Eat and Sleep Well. The sections contained under those menus are filled with information and illustrated with photographs.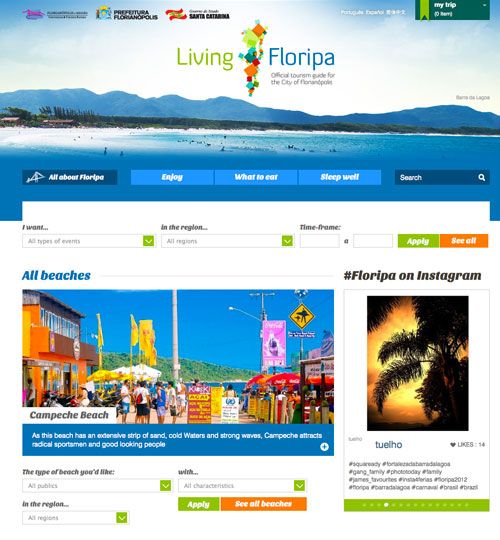 Renewed institutional websites, information-packed and with a clear disposition to help the traveller are always welcome and Living Floripa is no exception. We only wish a bit more care had been put in the translations. Also, it would have been interesting to talk to those of us who've been helping travellers for years; we could have pinpointed the areas of information that are crucial for the foreign tourist. I'm taking a look at the Arriving in Floripa section, to give one example, and I sense the truly useful and practical information the traveller is desperate to find is nowhere to be found.
Our congratulations to all those involved in the initiative.
The main text on Florianópolis at the BRAZIL TRAVEL BLOG IS destination: Florianópolis.
OTHER BLOG ENTRIES ON FLORIANÓPOLIS:
– Map of Florianópolis
– Brazil in pictures: Florianópolis
– Florianópolis North: what to do and where to go
– Florianópolis Centre-Lagoa: what to do and where to go
– Florianópolis South: what to do and where to go
– Ilha do Campeche
– bar do Arante, Florianópolis
Category: Destination: Santa Catarina