Tag: Congonhas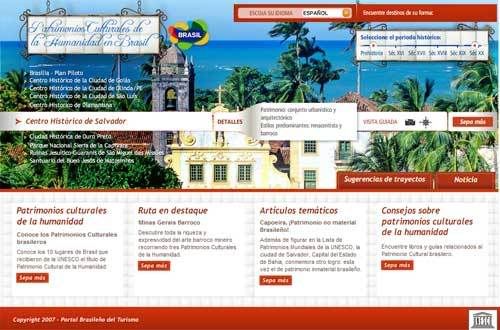 In World Heritage Sites we presented a list of all the heritage sites in Brazil, both cultural and natural. Now I want to introduce a website devoted entirely to the World Cultural Heritage Sites found in Brazil: Mankind's Cultural Heritage in Brazil. The website is run by the Ministry of Tourism and has a version in English, the one I'm linking to here.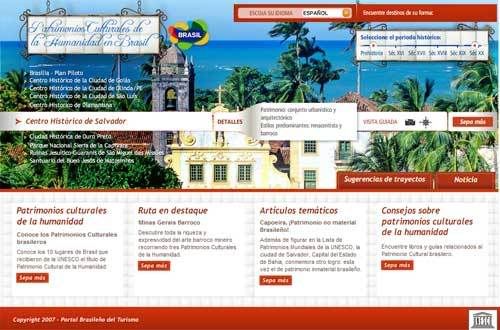 The design of the website is quite pleasant to the eyes although it takes some time to get used to the navigation tools. The page contains plenty of information on the following places:
Brasilia
Historical Centre of Salvador
Historical Centre of Ouro Preto
Historical Centre of Diamantina
Historical Centre of São Luís
Historical Centre of Goiás
Historical Centre of Olinda
Serra da Capivara National Park
Jesuit ruins of São Miguel das Missões
Santuario do bom Jesus de Matosinhos (Congonhas)
It is an excellent source to find information on the cultural heritage of Brazil. It's always refreshing to come across an initiative that goes beyond the staple diet of sun and beach. It is an official site, after all.
The site presents a few translation problems and some oddities (Diamantina pictured north of Ouro Preto). Of course, any criticism to the sorry state of preservation of the cultural heritage is conspicuous by its absence.
The list of World Heritage sites drafted by UNESCO includes 11 Brazilian locations under the Cultural Heritage category and 7 under the Natural Heritage one.
————————————————————
A. CULTURAL HERITAGE:
1. Brasilia

2. Historic Centre of Salvador de Bahia

3. Historic Centre of São Luís do Maranhão

4. Historic Town of Ouro Preto

5. Sanctuary of Bom Jesus do Congonhas

6. Historic Centre of the Town of Diamantina.
7. Historic Centre of the Town of Goiás.
8. Historic Centre of the Town of Olinda.
9. Jesuit Missions of the Guaranis: Ruins of Sao Miguel das Missoes.
10. Serra da Capivara National Park (cave paintings).
11. Praça São Francisco in São Cristovão
————————————————————
B. NATURAL HERITAGE:
12. Atlantic Forest South-East Reserves.

13. Atlantic Islands: Fernando de Noronha and Atol das Rocas Reserves.

14. Central Amazon Conservation Complex.

15. Iguaçu National Park.

16. Pantanal Conservation Area.

17. Discovery Coast Atlantic Forest Reserves.
18. Cerrado Protected Areas: Chapada dos Veadeiros and Emas National Parks.
subscribe to the Brazil Travel Blog by Email


follow the Brazil Travel Blog on Twitter


follow the Brazil Travel Blog on Facebook
Exceptionally, this review covers not just one destination but several of them, in the vicinity of Belo Horizonte, state of Minas Gerais. We are talking about the Cidades Históricas (Historical Cities). The best well-known are Ouro Preto (Unesco World Heritage Site, we have a blog post devoted to it: destination: Ouro Preto), Mariana (we also have a blog post: destination: Mariana), São João del Rei, Tiradentes, Congonhas and Sabará. The other jewel on the crown is Diamantina, far away from the others, which I will not cover here as I haven't visited it yet.
WE LIKE THE MOST: the outstanding collection of colonial baroque art, the crafts, the food

WE LIKE THE LEAST: the alarming deterioration of the artistic heritage with the utter connivance of the authorities. Unesco have repeteadly expressed their concern with the state of Ouro Preto

HOW TO GET THERE: The Cidades Históricas can only be reached by road. You will need to you use a rented car, the public transport system, or embark on a one-day trip from Belo Horizonte.

CAREFUL WITH: it gets very cold on the mountain region during the Brazilian winter; the "comida mineira" (food from the region), as delicious as it is caloric; the notorious roads in the region, with one of the hightest accident rates for the whole of Brazil
FAVOURITE PLACES: Congonhas, the church of Nossa Senhora de Ó in Sabará, the steam train between Tiradentes and São João del Rei, Tiradentes, Mariana

PIECE OF ADVICE:
there is plenty to see in Ouro Preto, you will easily fill a day visiting the town; Mariana is nearby, a couple of hours to visit the village will be enough
São João del Rei and Tiradentes can be visited on the same trip, there is a steam train linking both places
LINKS: Associação das Cidades Históricas de Minas Gerais, Cidades Históricas de Minas, Ouro Preto, São João del Rei, Tiradentes, Conheça Minas pela Internet
WEATHER FORECAST: The weather in Ouro Preto for the next 10 days
GOOGLE MAPS: Cidades Históricas
PHOTOS: Cidades Históricas
——————————
RELATED POSTS:
destination: Ouro Preto
destination: Mariana
subscribe to the Brazil Travel Blog by Email


follow the Brazil Travel Blog on Twitter


follow the Brazil Travel Blog on Facebook