Tag: Google Street View
There's been more than its fair share of praise for Google's Street View here at the BRAZIL TRAVEL BLOG. Since its arrival in Brazil in October 2010 (Google's Street View has landed in Brazil) there is so much we've been able to see and visit thanks to Street View – we've even been able to tour the Amazon!
Street View is a fantastic tool for the traveler. Being able to see things from street level allows you to get an accurate sense of the location of things and their external appeareance – a key issue when it comes to hotels. Google has now increased considerably its coverage of Brazil. Initially the service landed in Belo Horizonte, Rio de Janeiro and São Paulo as well as the metropolitan regions of the mentioned cities and cities along the coast of São Paulo (Santos, Praia Grande, Guarujá) and the Historic Cities of Minas Gerais (Congonhas, Mariana, Tiradentes, Diamantina, São João Del Rei and Ouro Preto).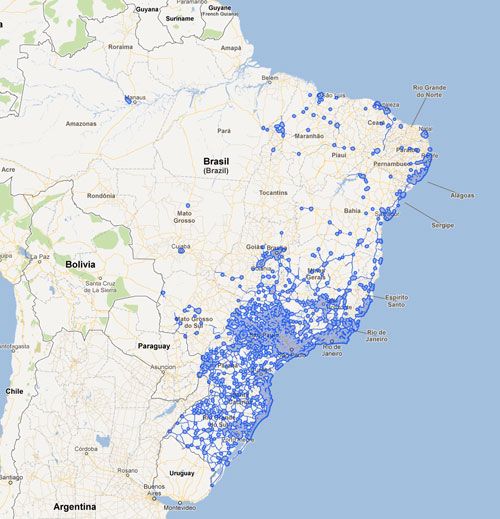 The list of new cities added to the service is extense (you can have a look at it here). On the map reproduced above (click on it to open it) you can see the current coverage of the service.
Among the cities of interest to the traveler covered now by Street View we find:
Angra dos Reis
Arraial do Cabo
Brasília
Búzios
Cabo Frio
Fortaleza
Foz do Iguaçu
Goiânia
Ilhéus
João Pessoa
Maceió
Natal
Paraty
Recife
Salvador
São Luís
Ubatuba
As well as a miles and miles of Brazilian roads. Street View is an awesome tool, make sure you use it.
To mark World Forest Day Google has released thousands of photos taken in the River Negro reserve in the Amazon. The photos can be seen through the Street View feature on Google Maps and the following video illustrates the fascinating process leading to the capture of the images:
There were shots taken in the river itself, on some of its tributaries as well as in the forest and the communities living in the reserve.
You can go directly to some of the locations clicking on the following links:
The new collection of images, as well as allowing viewers to reach the Amazon region from the comfort of their homes or workplaces, allows access to places that are out of bounds for tourism.
We have a wealth of information on the Amazon region here at the Brazil Travel Blog. Check the articles out at the Amazon: an index of blog posts.