Tag: Twitter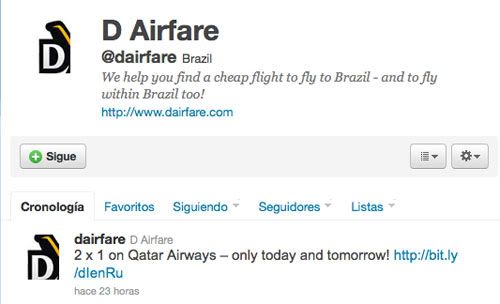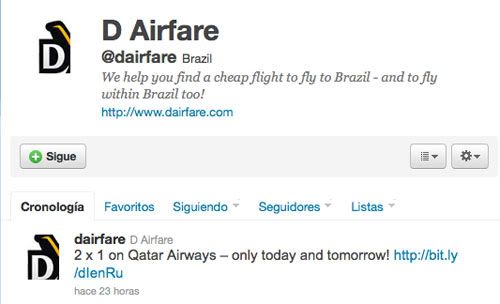 D Airfare, our blog on all things related to commercial aviation news and ticket deals and promotions, is finally on Twitter. Follow all our announcements at our Twitter profile and don't miss any last-minute deals to fly to Brazil or within the country.
In recognition of the growing importance of Facebook and Twitter, we will be adding to our accommodation listings in Accommodation in Brazil (as well as in Alojamiento en Brasil and Hospedagem no Brasil) the web addresses of Facebook pages and Twitter profiles of hotels and pousadas.
If you own a hotel or pousada and have a Facebook page or Twitter profile, let us know so we can add it to the listings (contact). For the time being we can only add the information if we have a listing for the city or town where your establishment is located.
subscribe to the Brazil Travel Blog by Email


follow the Brazil Travel Blog on Twitter
For a few weeks now we have been taking part on the latest internet craze, Twitter, where you can find the Brazil Travel Blog at Twitter. We are posting there updates to the information published on the blog as well as short notes that are not worth an entire blog post. To have a quick look, click on the banner below. If you create your own account at Twitter you'll find it following our updates is a piece of cake.

To be absolutely honest, for me the Twitter experience so far falls abysmally short of that wonderful and indispensable tool every traveler should carry in their pack. Some of the fantastic discoveries and incredible tips reported by others could have easily been found with a proper feed reader and a good selection of RSS feeds. Also, the amount of is mind-boggling. Nonetheless, it is beyond any doubt that Twitter provides a sense of immediacy not found elsewhere on the net.
subscribe to the Brazil Travel Blog by Email.